OneShare
2023-11-15

Share OneNote single page.
Share OneNote multiple pages.
Create homepage for shared pages.
OneNoteGem offers the OneShare website.
The OneShare website generates a web page from a single Page of OneNote.
You can then send a link to this web page to a friend to share a single note in OneNote.
The same OneNote page, edited and then generated again, it still use the same link.
You can create your own shareable homepage, which serves as a table of contents and lists all the shared pages you've created in OneShare.
---
Purchase OneShare (Subscription)
$ 8.00 / Year
1 GB cloud storage.
10 times change Microsoft account.

---
OneShare Support for Microsoft Accounts
Microsoft Personal Account
OneShare fully supports Notebooks and Class Notebooks of Microsoft Personal Account.
Microsoft School or Work Account
OneShare also supports Microsoft school or work accounts, but
requires your administrator to consent on behalf of your organization
before sign in OneShare.
Data and Security
You'll sign in to your Microsoft account for OneShare through Microsoft's sign-in web page, login.microsoftonline.com.
OneShare can't get your password, it only gets the token provided by Microsoft after the login is successful.
OneShare then uses the token to get your OneNote data from OneDrive.com.
OneShare saves only the OneNote pages you want to share, as well as their pictures and attachments.
Due to the limitation the OneNote content retrieved from OneDrive.com, the web page can now only contain the following:
Convert the internal links of this page to HTML anchors. Implement the jump in this HTML file. Specifically, it can be applied to the HTML file of the TOC inserted by Gem's Add-ins.
Images (Don't support printouts)
Attachments (Don't support the large attachments)
29 Tags
Equation (Firefox can display the equation correctly)
Audio
Video
The contents that are not included are:
Drawings and Handwritings
Tags (Except 29 tags)
Background
Rule Lines and Grid Lines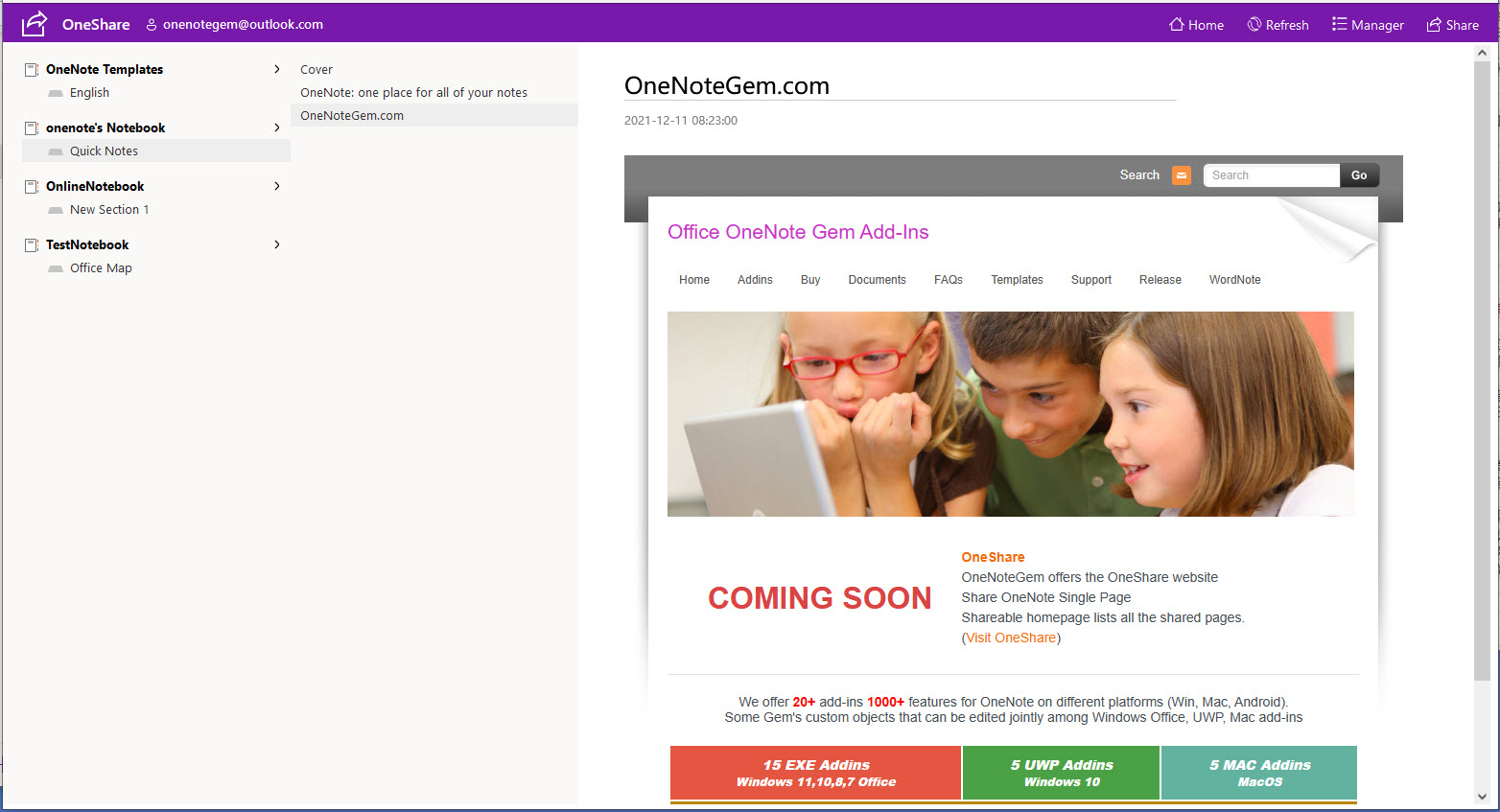 How to Register OneShare
Click the account on top left corner in OneShare to enter user information, then click Register button to input register information to active a Microsoft account.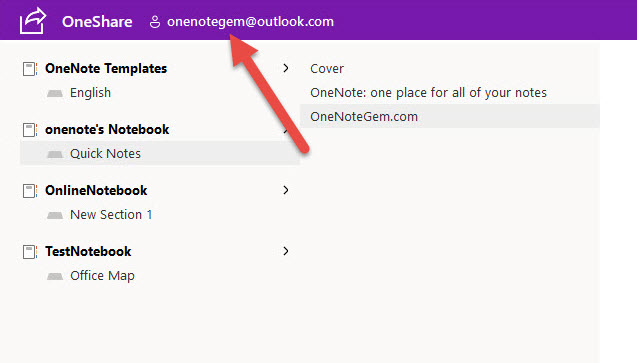 How to Remove Permissions of OneShare Access to Your OneNote Notebooks?
Remove Permissions